Nestled just off the southern coast of Victoria (Australia), Phillip Island stands as a captivating gem that beckons travelers with its diverse natural beauty, unique wildlife, and an array of attractions.
Boasting a harmonious blend of coastal charm and ecological wonders, Phillip Island has rightfully earned its reputation as a must-visit destination for both locals and international tourists.
Phillip Island is situated approximately 140 km southeast of Melbourne, making it an easily accessible retreat for those looking to escape the bustling city life. A bridge connects this picturesque island with pristine beaches and thriving wildlife to the mainland.
Why visit Phillip Island?
Phillip Island's coastline showcases a kaleidoscope of landscapes, from rugged cliffs to serene sandy shores. The island's beaches, including Cowes Beach and Summerland Beach, invite visitors to unwind and soak in the coastal splendor.
The island is renowned for its extraordinary wildlife, offering opportunities to observe creatures both on land and in the surrounding waters. Koalas, wallabies, seals, and the famous Little Penguins call this island home, providing a chance for up-close interactions.
Beyond its natural wonders, Phillip Island features charming towns such as Cowes, with its quaint boutiques, galleries, and eateries. The welcoming ambiance and local hospitality add to the island's allure.
For outdoor enthusiasts, Phillip Island offers many activities, including surfing, kayaking, and cycling. The island's well-maintained trails provide a platform for exploring its diverse landscapes on foot or by bike.
Delve into the island's cultural scene through art galleries, museums, and historic sites. Gain insights into the island's history and heritage, understanding its evolution from a fishing hub to a popular tourist destination.
Attractions and Activities on Phillip Island
Phillip Island Wildlife Park: Encounter native Australian animals in a natural bushland setting. The park allows visitors to get up close with kangaroos, wallabies, and koalas, fostering a deeper appreciation for Australia's unique fauna.
Seal Rocks: Witness the awe-inspiring seal colonies at Seal Rocks, where Australian fur seals lounge and play in their natural habitat. Guided boat tours provide the chance to observe these fascinating creatures from a respectful distance.
The Nobbies Centre: Explore the rugged coastal landscape of The Nobbies, featuring boardwalks that allow you to take in breathtaking views of the Bass Strait. The center also hosts interactive displays and exhibits focused on marine life and conservation efforts.
Koala Conservation Centre: Stroll along treetop boardwalks to spot koalas in their native eucalypt habitats. Learn about the island's commitment to preserving these marsupials and their natural environment.
Churchill Island Heritage Farm: Step back in time at this historic working farm, offering insights into early colonial life. Explore heritage buildings, and gardens, and engage in farm activities and demonstrations.
A Maze'N Things: Engage in family-friendly fun with optical illusions, mazes, puzzles, and a range of interactive experiences that challenge the mind and entertain all ages.
The enchanting penguin parade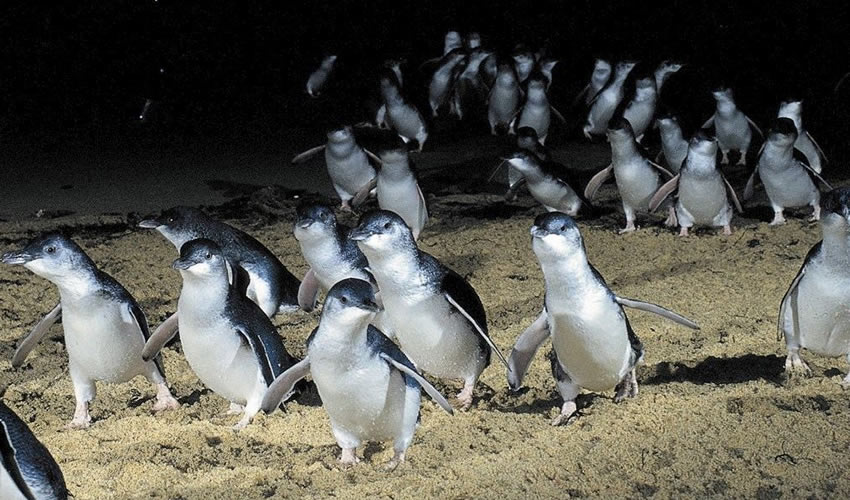 Undoubtedly one of the island's most celebrated attractions, the Penguin Parade has captured the hearts of millions of visitors from around the world. At Summerland Beach each evening, this natural spectacle unfolds as the sun sets over the horizon.
Thousands of Little Penguins, the world's smallest penguin species, emerge from the ocean after a day of fishing. With a synchronized rhythm that has left observers in awe, these adorable creatures make their way across the sandy shores to reach their burrows in the sand dunes.
To enhance the experience, the Penguin Parade offers a range of viewing options. Visitors can choose from various seating arrangements, including the premium "Penguins Plus" platform and the underground "Penguin Underground" experience.
These options provide prime viewing spots while ensuring minimal disruption to the penguins' natural behavior.
The Penguin Parade not only provides an unforgettable encounter with nature but also promotes awareness about the significance of preserving these fragile ecosystems. The park's team manages the site to minimize the impact on the penguins and their habitat.
Phillip Island is a treasure trove of natural wonders, offering a harmonious blend of stunning landscapes, diverse wildlife, and enriching experiences. Phillip Island stands ready to deliver an exceptional and immersive getaway.